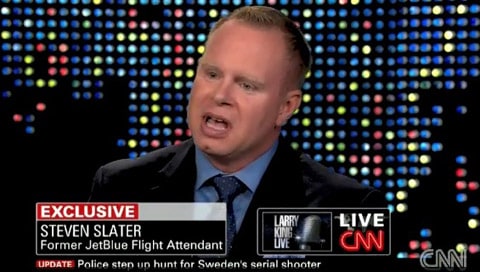 On last night's Larry King, JetBlue flight attendant Steven Slater gave his first full interview since his escape chute incident. Slater describes the events leading up to the incident, 
After the plane landed at John F. Kennedy International Airport in Queens, Slater said the passenger with the large bag — which had to be checked as it wouldn't fit in the overhead bin — began berating him. With the PA microphone already in hand, he said that he thanked the "respectful" passengers on board but not the woman who Slater said had called him a curse word.
Slater said he then grabbed a few beers from the beverage cart, looked outside, opened the emergency evacuation slide and slid down. He described his thoughts at the time as a combination of "pure rage" and serenity and clarity that "I didn't need to do this anymore."
"I was just thinking, 'I'm free, I'm finally free,' " he said. "It was a nice, hot beach day, and I had a couple of cold beers."
Slater is writing a book, tentatively titled "Cabin Pressure", and must pay a $10,000 fine to JetBlue for the cost of repairing the chute.
Watch three segments, AFTER THE JUMP…