Prosecutors have dropped charges against three of the alleged gang members in custody with regard to the hideous anti-gay gang attacks that took place on October 3 in NYC's Bronx borough, the NY Daily News reports: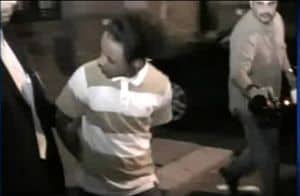 "Bryan Almonte, 17, Steven Carabello, 17, and Brian Cepeda, 16, were exonerated in Bronx Supreme Court and released from jail after the district attorney's office admitted the evidence was insufficient. "After a thorough review of the evidence, there is insufficient evidence to prove criminal conduct beyond a reasonable doubt," Bronx Assistant District Attorney Theresa Gottlieb told Justice Steven Barrett. "I've never been so happy," Cepeda told his family after his release. "It feels good." "They were innocent all along and we're so happy they're free," said Alva Cepeda, his sister. Prosecutors originally said the three teens were members of a homophobic gang known as the Latin King Goonies who savagely beat four victims and sodomized two with wooden objects during a robbery and gang initiation. But the criminal complaints against the three – who spent nearly three weeks in jail – had few details of their involvement."
Meanwhile, "One of the 11 original defendants, Luis Garcia, 26, was indicted Tuesday on charges of gang assault and robbery, said a prosecutor, Theresa Gottlieb. More were expected to be indicted on Wednesday and Thursday. They defendants were reported to be members of a gang known as the Latin King Goonies. John O'Connell, a lawyer for Mr. Almonte, said his client went to the building thinking 'it was just a party' and 'tried to intercede' when the assaults began. "He is a victim as well," Mr. O'Connell said."