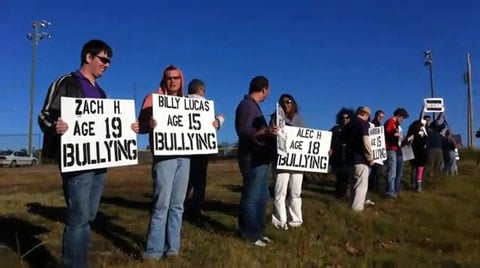 A protest was held today outside Midland High School in Arkansas today, demanding Clint McCance, the school board member who has outraged the nation after remarks celebrating the suicides of gay and lesbian youth on Facebook, resign.
The Arkansas Times reports that 35 protesters were on hand calling for McCance's resignation, but that there were also counter-protesters:
"David reports that about 10 counter-protesters, including a preacher from Oil Trough, arrived in Ford pickup bearing a Christian flag and an American flag. They said they were not present to stand up for gays or straights but to 'stand up for God.' There was a large contingent of police on hand, including six state troopers and some local police, and so far all has been peaceful. Demonstrators were ordered away from the front of school because law officers said they were impeding traffic. They were moved to the edge of a ditch behind the school…Three of the group calling for McCance's resignation, including a former Midland High student, were invited into school offices to speak with Superintendent Dean Stanley and School Board president Bryson Wood."
More at the Arkansas Times…
A few short clips of the protest, AFTER THE JUMP…
Previously…
Anderson Cooper Rips Clint McCance [tr]
Arkansas Midland School District Distances Itself [tr]
Watch: Thomas Roberts Talks to Arkansas Times Reporter [tr] 
Arkansas School Board Member Clint McCance Wants 'Fags' Dead [tr]