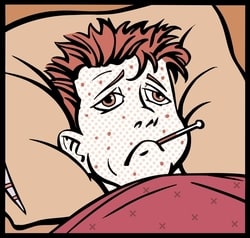 After months of healthy eating – fruits, vegetables and all that – I indulged last night in some of Santa Fe's signature chilies, which came complete with beef, cheese, fat, oil and other nasty culinary additions. The result? Not good.
As I've been curled on my couch, a single question has been flashing in my sickened mind: "Are men babies when they're sick?"
Popular opinion and entertainment, like the most recent episode of Desperate Housewives, suggests that men are reduced to diapers when they're stricken by illness. Or, in my case, bring it on themselves.
So, wise reader, do you think this is true? Are men more likely to succumb to sickness than women? Is my prostration simply a stereotype?