You may recall that in February, New York Senator Chuck Schumer nominated Daniel Alter, then National Director of the Civil Rights Division of the Anti-Defamation League, to serve as a judge in the Southern District federal court. The White House has rejected the nomination, the Washington Blade reports: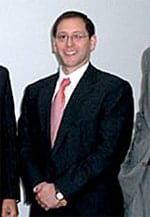 But informed sources told the Washington Blade that the White House rejected Alter's nomination because of remarks he reportedly made regarding a case challenging inclusion of the phrase "under God" in the Pledge of Allegiance. In addition, the White House reportedly objected to remarks that Alter made suggesting that merchants not wish shoppers "Merry Christmas" during the holidays.
In a 2005 article published by Cybercast News Service, Alter is quoted as saying that a general holiday greeting is more appropriate and inclusive for retailers as opposed to saying "Merry Christmas."
"It seems both from a business … and a community perspective, that if merchandisers were going to do that … they would try to wish those in the community who may not share in celebrating Christmas a happy holiday as well," Alter is quoted as saying.
"Our diversity has made us great and will continue to make us great and ['Merry Christmas'] undermines both the holiday spirit as well as the message I think Americans should be sending to each other," Alter reportedly continued.
The 2005 quotes were apparently reprinted in a 2008 CNS article that is stored in the archives on the organization's website.
More at the Blade.
Alter would have become the first openly gay man to sit on the federal bench if confirmed.