The Advocate's Kerry Eleveld follows up on her report about today's White House meeting on 'Don't Ask, Don't Tell'. I posted a quick update to my earlier post, but there's more.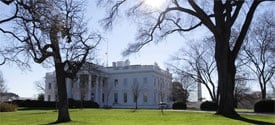 Participants of the meeting include:
"Allison Herwitt and Joe Solmonese of the Human Rights Campaign; Shane Larson of the Stonewall Democrats; Winnie Stachelberg of the Center for American Progress; Aubrey Sarvis of the Servicemembers Legal Defense Network; R. Clarke Cooper of the Log Cabin Republicans; Alex Nicholson and Jarrod Chlapowski of Servicemembers United; Nathaniel Frank, DADT expert formerly of the Palm Center; Jim Kessler of the Third Way."
Also, there have been strict instructions issued, according to the text of an email obtained by Eleveld, in which Bond writes:
"Obviously this meeting has gotten out. We are expecting the content of the conversation today to be off the record and to help us figure out how to move forward with the lame duck session. Also as previously mentioned, there can be no discussion of current court cases or legal strategy or Counsel's Office will end the meeting. The focus is repeal and the lame duck session. This is also a non-partisan meeting where we want everyone's help."