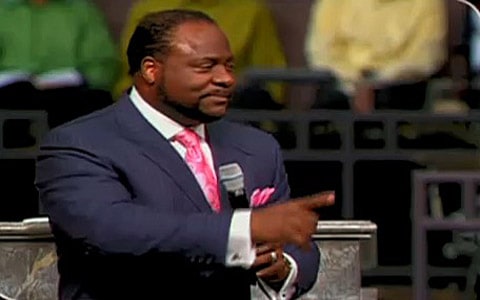 The firestorm surrounding Bishop Eddie Long will get some fresh fuel later this month, when a South Carolina Pastor named Prophet H. Walker leads a rally in Georgia calling for Long's resignation.
"[Long] has no right to assume the office of pastor at any Christian church. A pastor should be above reproach," said Walker, whose rally against Long will be held on Halloween. Long, a homophobic conservative, has been accused of sexually assaulting four young men from his congregation.
The claims against Long come as no surprise to radio host Reuben Armstrong, who says someone came to him in 2006 and told him, "Bishop Long was allegedly grooming young vulnerable male members of his church for his own personal sexual use." Armstrong has always been a voracious critic of Long, whom he included in his best-selling book, Crooks and Homos in the Pulpit.
Long, meanwhile, maintains his innocence and refuses to back down.