Back in February, I posted about Miami Beach police harassing and arresting a gay man after he witnessed them abusing a suspect. The gay man, Harold Strickland (pictured), was on the phone with 911 when the cops came after him.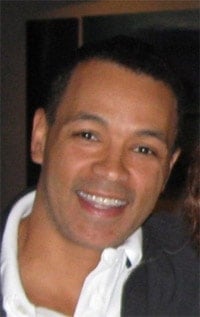 "A few seconds later, the line went dead. Strickland later told the ACLU that Forte and Hazzi grabbed his cellphone and disconnected the call. 'The officers then told Strickland: 'We know what you're doing here. We're sick of all the f—ing fags in the neighborhood.' The officers pushed Strickland to the ground and tied his hands behind his back,' [Robert F. Rosenwald Jr., director of the ACLU Florida's Lesbian-Gay-Bisexual-Transgender Advocacy Project] wrote in an ACLU letter delivered Wednesday to Miami Beach Mayor Matti Herrera Bower.' While Strickland was on the ground, the officers continued to spew anti-gay epithets. They called him a 'f—ing fag' and told him he was going to `get it good in jail.'' Bower and City Manager Jorge Gonzalez also declined to comment."
The ACLU, which originally announced its plan to file suit in February, has finally done so in federal court:
"Gay men have been reportedly targeted by Miami Beach police near Flamingo Park for decades. Often, police target gay men walking near Flamingo Park for nothing more than looking 'too gay'," said Robert Rosenwald, Director of the ACLU of Florida's LGBT Advocacy Project in a statement. "When police officers become the problem rather than the solution, the City needs to take action. Strickland fulfilled his civic duty by reporting what he recognized as police misconduct, but as a result he became the subject of verbal abuse and wrongful arrest."
Riptide writes: "While the suit only concerns the single incident, the ACLU claims it highlights disturbing trends in the Miami Beach Police Department of 'unlawfully targeting gay men for arrest without probable cause and harassing and arresting people who observe, document, and/or report police misconduct.