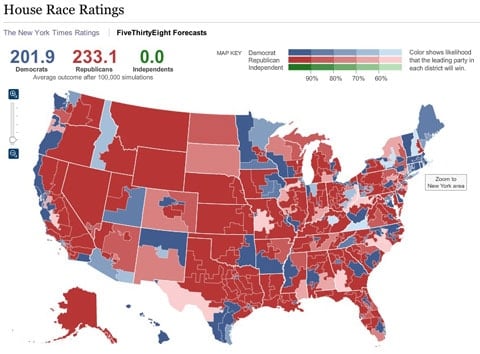 Nate Silver at FiveThirtyEight offers up his final forecast for today's elections:
Our forecasting model, which is based on a consensus of indicators including generic ballot polling, polling of local districts, expert forecasts, and fund-raising data, now predicts an average Republican gain of 54 seats (up one from 53 seats in last night's forecast), and a median Republican gain of 55 seats. These figures would exceed the 52 seats that Republicans won from Democrats in the 1994 midterms.
Moreover, given the exceptionally large number of seats in play, the Republicans' gains could be significantly higher; they have better than a one-in-three chance of winning at least 60 seats, a one-in-six chance of winning at least 70 seats, and have some realistic chance of a gain exceeding 80 seats, according to the model.
However, the same factors that could provide Republicans with extraordinarily large gains if their turnout is strong tomorrow could also cut against them if Democrats turn out in greater numbers than expected, or if the polling has underestimated the Democrats' standing.
Of the projected Republican gains, many are tenuous. If we allocate all 435 seats to the leader projected by our model — no matter how slim the margin — Republicans would net a gain of 59 seats. In 15 of these 59 seats, however, the Republican is projected to win by fewer than 2 points. It is likely that Republicans will lose at least some of these — which is why the model forecasts an average gain of 54-55 seats, rather than 59, when looking at the seats on a probabilistic basis. If they lost all of them, however, their gains would be merely 44 seats, which would put the Democrats within striking distance of retaining the House. And if Democrats beat their projected margins by about 3 points across the board, they would be about even-money to keep control of the House.
Get out and vote today. TEXT the word PLACE to 62262 to find your POLLING PLACE.
Please join us here at Towleroad at 6:30 pm for an election night liveblog where we'll be reporting and discussing results from races around the country.