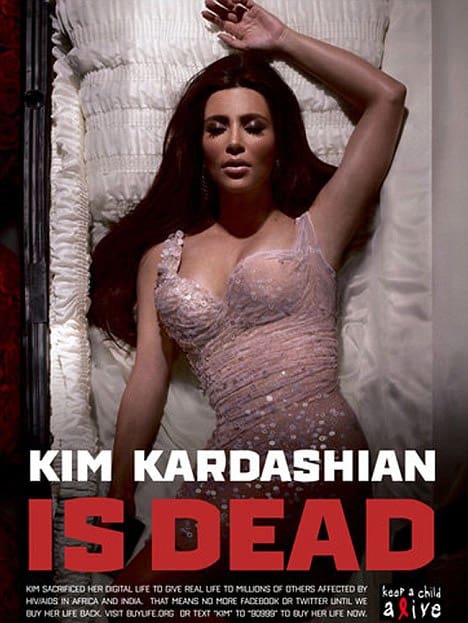 Dying for attention (to AIDS).
Millions of people will be deprived of their favorite celebrity musings later this week as the likes of Lady Gaga, Justin Timberlake and Ryan Seacrest go dark on Twitter and Facebook. The silence will only be temporary, however, as it's part of a $1 million fundraiser for World AIDS Day, which takes place December 1.
The project was organized by Alicia Keys on behalf of her charity Keep a Child Alive. According to the Associated Press, the celebs — which also include Kim and Khloe Kardashian, Jennifer Hudson and Serena Williams — will remain silent in the social media universe until the charity raises $1 million.
The effort will be further supported by dramatic videos featuring the celebs in what the AP describes as "lying in coffins to represent what the campaign calls their digital deaths." Presumably, those videos will be tweeted out before the celebs sign off to raise awareness.
Dlisted thinks the campaign got it all wrong: "This is NOT how you do it. If Alicia really wants all of us to turn our PayPal pocketbooks upside down and shake the cash into her hands, she should've promised us that Kim will stay off of Twitter forever once $1 million is raised. Where was Don Draper when Alicia really needed him?!"