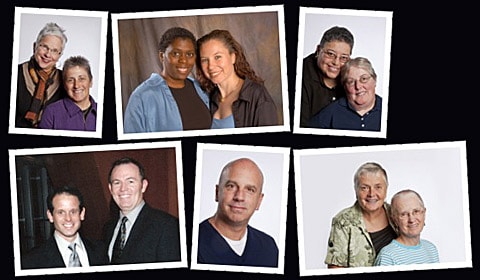 Gay & Lesbian Advocates & Defenders (GLAD) has filed its second lawsuit challenging the constitutionality of the Defense of Marriage Act (DOMA) on behalf of five same-sex couples and a widower (above). The New York ACLU also filed a new lawsuit challenging DOMA, on behalf of a widower.
Watch GLAD's Mary Bonauto explain the case in a video, AFTER THE JUMP…
This new action specifically addresses married couples in Connecticut, Vermont,  and New Hampshire, and comes on the heels of a Massachusetts Federal District Court ruling this summer finding DOMA Section 3 unconstitutional.
In Pedersen et al. v. Office of Personnel Management, GLAD represents five married same-sex couples and a widower who have all been denied federal rights and protections simply because they are married to a person of the same sex. 
"Getting married was extremely meaningful to Ann and me," said Joanne Pedersen, who, with her spouse Ann Meitzen, is a plaintiff.  "We were shocked to discover that the federal government essentially looks on ours as a second-class marriage."
Filed in Federal District Court in Connecticut, this suit addresses DOMA's denial of marriages in connection with federal employees and retirees benefits programs, Social Security benefits, survivor benefits under federal pension laws, work leave to care for a spouse under the Family Medical Leave Act, and state retiree health insurance plans that are controlled by federal tax law.  Several plaintiffs who have paid additional federal income taxes because they cannot file a joint federal tax return as a married couple will join the suit once they are officially turned down for refunds from the IRS.
More at GLAD's site.
The ACLU has filed a case against DOMA as well, on behalf of Edith "Edie" Windsor. They explain:
Although Edie and her wife Thea Spyer were recognized as married in their home state of New York, DOMA bars the federal government from recognizing their marriage for estate tax purposes.
Edie Windsor and Thea Spyer shared their lives together as a committed couple for 44 years. They became a couple in 1965, got engaged in 1967, and married in Canada in 2007, after it became legal. When Thea died in 2009, the federal government refused to recognize their marriage and taxed Edie's inheritance from Thea as though they were strangers. Under federal tax law, a spouse who dies can leave her assets, including the family home, to the other spouse without incurring estate taxes. Because of a law called the Defense of Marriage Act, or DOMA, the federal government refuses to treat married same-sex couples, like Edie and Thea, the same way as other married couples. This case points out that it is a denial of the equal protection principles of the Fifth Amendment to the United States Constitution for the federal government to pick and choose which marriages it will recognize for federal purposes, when it otherwise leaves that question entirely up to the states.
More at the ACLU's site.
The NYT reports on the lawsuits: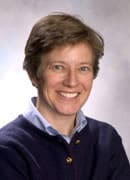 Taken together, said Mary Bonauto, the director of the Civil Rights Project for the Gay and Lesbian Advocates and Defenders, the cases show same-sex couples "are falling through the safety net other people count on."
Traditionally, Ms. Bonauto noted, the federal government has left the definition of marriage to the states. "The federal government has respected those determinations, except in the instance of gay and lesbian couples marrying," she said. The result, she said, is a violation of constitutional guarantees of equal protection.
In the Massachusetts case earlier this year, the Justice Department defended the Defense of Marriage law, and is likely to do so again as the two new cases move forward. A spokeswoman for the Department of Justice, Tracy Schmaler, said, "The Justice Department has a longstanding tradition of defending acts of Congress when they are challenged in court."
The new cases, however, could increase the pressure on President Obama to act on his repeated promises to support gay rights. Mr. Obama has called for the repeal of the Defense of Marriage Act, saying it is discriminatory. But he has also said he supports civil unions but not same-sex marriage. Last month, however, at a meeting with liberal bloggers, he said he had been thinking "a lot" about that position, saying, "Attitudes evolve, including mine."
Watch GLAD's Mary Bonauto explain their case in a video, AFTER THE JUMP…