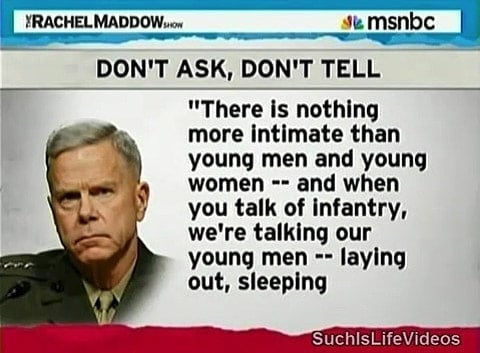 The NYT reports on the forces at work against DADT repeal in Congress:
One is the simple matter of the Congressional calendar. There will be very little time in the lame-duck session that begins next week for the Senate to vote to authorize the repeal of the policy and reconcile its measure with a version passed by the House.
The other obstacle is in the concerns of Senator John McCain of Arizona, the senior Republican on the Armed Services Committee. Although Mr. McCain has said in the past that he would consider authorizing a repeal of the law once the Pentagon review was complete, he faced a challenge from the right in his recent re-election fight and campaigned, in part, on a promise to preserve the 17-year-old law that requires service members to keep their sexual orientation secret. Mr. McCain, 74, a naval aviator who was shot down and imprisoned in Hanoi in the Vietnam War, has continued to press against repeal.
And a possible, but unlikely solution: 
"Mr. Reid could try to bring the defense bill to the floor under an open amendment process, a move that Republicans presumably would not block but that would mean committing a large block of time to debate. In that case, opponents of repeal would not be able to pass an amendment stripping it out of the bill."
Rachel Maddow also covered the latest developments on her show last night.
Watch, AFTER THE JUMP…