In an interview published today, Talking Points Memo asks Department of Justice Assistant Attorney General Tony West about the Obama administration and gay rights.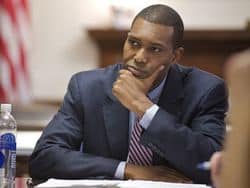 Says West: "Those are difficult cases because as you know the administration has a long standing policy view on this — supports the repeal of DOMA and supports the repeal of 'Don't Ask Don't Tell'…The Department of Justice, notwithstanding the administration policy view which is strongly held by us, has an institutional responsibility to defend the constitutionality of congressional statutes, whether we agree with them or not."
West said Monday that DOJ was discharging its responsibility to the tradition of the Justice Department while making adjustments to the arguments in line with the administration's views.
"I think that the best example — let me give you one — in the Defense of Marriage Act — you'll notice that we have not only discharged our responsibility to defend the constitutionality of a congressional statute, but we've done so in a way which reflects the policy values of this administration," West said.