During a lengthy and frank interview with former New York governor Eliot Spitzer about Wall Street, corporations, his dalliances with prostitutes, his new CNN show, and the recent election, Kevin Sessums also brings up gay rights.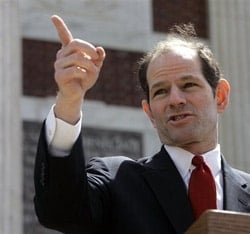 As you may recall Spitzer introduced a marriage equality bill in the months before he was forced to step down over his escort scandal.
Sessums asks Spitzer about DADT, marriage equality, and Obama:
Q:On another legal matter, do you agree with Obama that he had no choice as president defending the law of Congress to appeal the Don't Ask, Don't Tell ruling that said it was unconstitutional? Or do you agree with Ted Olson that he did not have to.
He didn't have to. He should have gotten rid of it with an executive order. He is the president! He is the commander in chief!
Q:Is he a coward about this issue?
I don't want to call the president of the United States a coward.
Q:I will. On this issue, he's a coward. He is playing politics with people's lives. It's cowardly.
Let me put it this way. From the very beginning, I have been very disappointed in his positions on a lot of civil-rights issues, on a lot of state-secrecy issues, a lot of judicial moments when he could have actually chartered a very different course than his predecessor and he hasn't. And certainly Don't Ask, Don't Tell is one of them.
Q:And on gay marriage, he is to the right of Dick Cheney and Ken Mehlman and Ted Olson. It would be almost poetic if it weren't so sad and disheartening that on the civil-rights issue of our time, our first African-American president will be seen on the wrong side of history. Again, for political reasons he's playing with people's lives.
It dismays me, too. It's dismaying. I am proud to say that I was the first governor in America to propose that same-sex marriage be legal and it still appalls me where we are on this issue in this country. Appalls me.
Eliot Comes Clean [the daily beast]