Pentagon Press Secretary Geoff Morrell released the following statement late today regarding leaking of information related to its report on 'Don't Ask, Don't Tell' which appeared in a report earlier this week, as well as demands from activist groups to release the study early.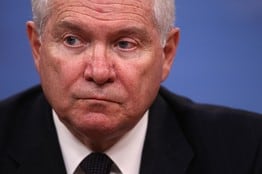 "Secretary Gates is very concerned and extremely disappointed that unnamed sources within the Department of Defense have selectively revealed aspects of the draft findings of the Comprehensive Review Working Group, presumably to shape perceptions of the report prior to its release. 
"The Secretary launched this review in March to objectively ascertain the impact of potential repeal of the 'Don't Ask, Don't Tell' law on military readiness, effectiveness, recruiting, retention, unit cohesion and families. He made it clear then and throughout this process that it was 'critical that this effort be carried out in a professional, thorough and dispassionate manner.' He has also stated clearly that 'given the political dimension of this issue, it is equally critical that…every effort be made to shield our men and women in uniform and their families from those aspects of this debate.' 
"For nearly nine months the Working Group has operated in strict accordance to that mandate.  Anonymous sources now risk undermining the integrity of this process.   
"The Secretary strongly condemns the unauthorized release of information related to this report and has directed an investigation to establish who communicated with the Washington Post or any other news organization without authorization and in violation of Department policy and his specific instruction. 
"The full report will be made public for all to review early next month. Until then, no one at the Pentagon will comment on its contents."
They certainly wouldn't want it to have any impact on DADT repeal passing in the lame duck Senate.