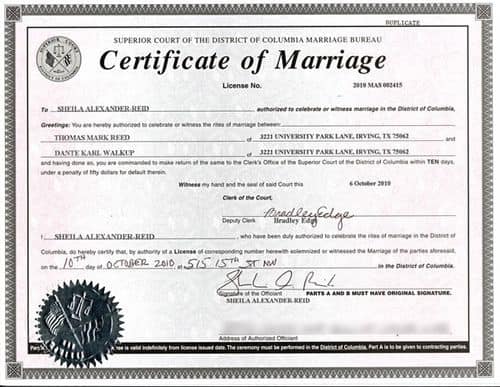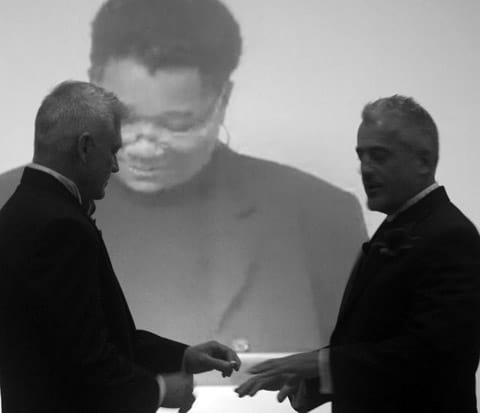 Rick Kamel of the 'Legal E-marriage Project' contacted Towleroad with photos and a report from what he's calling "the first digital gay wedding ever to take place in Dallas, Texas and indeed the nation." 
Kamel writes: "Digital matrimony history was made when Thomas Mark Reed and Dante Karl Walkup, after 10 years as partners, were wed in Dallas. Duly authorized officiant, Shelia Alexander-Reid, administered the vows via Skype from the District of Columbia."
Reed talked to the Dallas Voice about the wedding:
"When we walked down the aisle, as soon as we reached the front, [Sheila Alexander-Reid] comes on the screen like The Wizard of Oz. It was beautiful. It wasn't make-believe. It was like she was really there."
"Although Reed and Walkup were able to hold their ceremony in Dallas, they had to go to D.C. beforehand to register. And Reed said while D.C.'s marriage law has no provision against e-marriage, the validity of the procedure could theoretically be challenged in court. That's why the couple is now working with legal experts and legislators from states where same-sex marriage is legal to draft statutes that would solidify the practice. Reed and Walkup traveled this week to Michigan for a symposium on e-marriage. While the couple has no intention of using their case to challenge Texas' bans on same-sex marriage, Reed said they want to make it more convenient and less expensive for same-sex couples to legally wed."
Marriage certificate and video, AFTER THE JUMP…