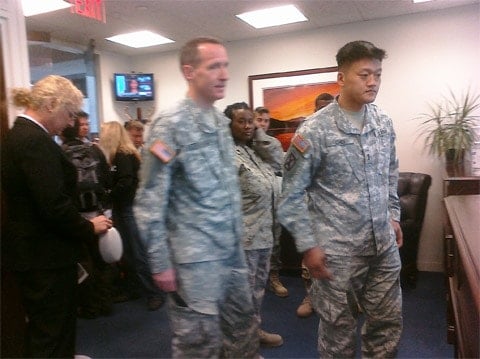 Dan Choi, Jim Pietrangelo, Autumn Sandeen, and 10 others i9 including GetEQUAL activists have entered Senator Majority Leader Harry Reid's office to ask for an audience with Reid.
Their intention is to pressure Reid to push for DADT repeal as the lame duck session of Congress begins this week.
GetEQUAL writes us:
"This summer, Lt. Dan Choi made headlines at Netroots Nation in Las Vegas when he approached Senator Harry Reid on-stage at a main conference event and gave his West Point cadet ring to Senator Harry Reid. At that time, Senator Reid – in front of this large crowd of progressive/liberal bloggers and activists, Senator Reid promised Dan that he would return the ring by the end of this year when the 'Don't Ask, Don't Tell' policy is repealed. Dan's question to Senator Reid – 'can I expect my ring back this year or not?'"
GetEQUAL is reporting via Twitter that "the White House hasn't engaged with Senator Reid's office" yet on DADT repeal.
More Tweets: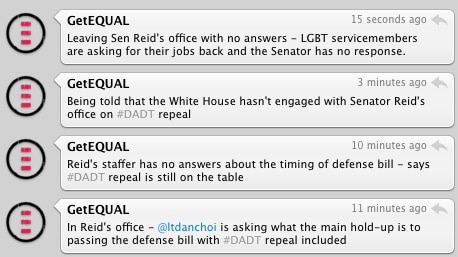 Dan Choi reportedly asked Harry Reid's Deputy Chief of Staff David McCallum if the Senator would recommit to repealing DADT in the lame duck session.
Said McCallum: "I don't know."