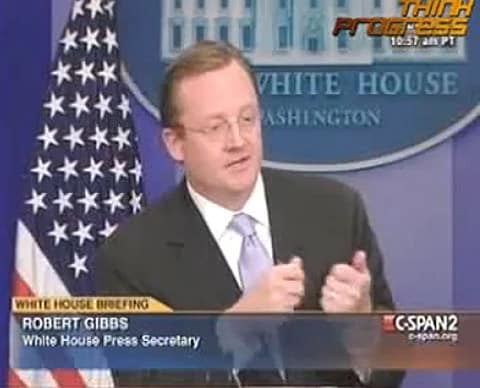 At today's press briefing, White House Press Secretary Robert Gibbs addressed questions on 'Don't Ask, Don't Tell' and activity during the lame duck session.
Video, AFTER THE JUMP….
Here's a bit of the transcript:
Q    Robert, back on "don't ask, don't tell," the service chief of the Navy recently praised the Pentagon report and said he's eager to see what happens with the Hill regarding repeal.  But the remaining three service chiefs, they're all on the record as saying they want to wait for the report to come out before Congress takes action.  Does the President anticipate that once the report comes out, those service chiefs will be on board in favor of repeal?
MR. GIBBS:  I don't — I think the service chiefs, as I understand it, are meeting with the Chair of the Joint Chiefs and with the Secretary as we get closer to this report coming out in order to discuss where they are based on that survey.  The President has not yet seen that survey so I don't want to presume whether, based on those results, that would change their opinion or not.  And I think it's best not to get too far down the road on commenting on that until we get a chance to personally see the substance.
Q    Wasn't that the purpose of the study, though?  You've said the President has been for repeal since you've known him and the President has said he wants to work with military leaders.  In the State of the Union address, he said he wants to work with military leaders to get them on board with repeal.  So what's the point of this report if not to get those service chiefs on board?
MR. GIBBS:  Well, I'm not saying that it won't.  I'm just saying — I think the original question you asked me is would that report change their mind.  I haven't seen the report.  The President hasn't seen that report.  And neither of us have had an opportunity to talk with the chiefs.  That's not to say that it won't.  That's not to say that — and quite frankly, that's not to say whether or not, whether you have unanimous agreement or not, that the policy — look, the President has known where people have stood on this policy for as long as he's supporting changing that policy.  So I think it will be important to, again, view the attitudes, to view — and to use those attitudes to craft a pathway to implementing a changed legislatively policy.  That's what the President has advocated through this process.
Watch, AFTER THE JUMP…
(clip via the wonk room)