Variety reports that Julianne Moore, at the Rome Film Festival for a screening of The Kids Are All Right, slammed Italian Prime Minister Silvio Berlusconi's recent remarks about gays: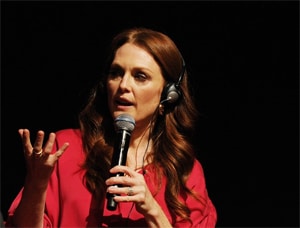 At a presser following a screening of Lisa Cholodenko's "The Kids Are Allright," in which she plays a lesbian parent, Moore was asked what she thought about a statement by Berlusconi who on Tuesday dismissed calls to resign over a scandal centered around a 17-year-old girl saying it was "better to like beautiful girls than be gay."
"I think it's unfortunate, archaic and idiotic," Moore commented.
"To hint or to say that there is something wrong with homosexuality… it's embarrassing when people continue to perpetrate these untruths," she went on, drawing plenty of cheers.
Berlusconi was condemned by gay rights groups for the homophobic remark.