With a final vote tally in, Kamala Harris today declared victory in one of the tightest races of the 2010 elections: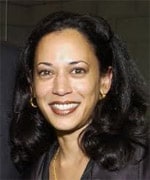 ​Kamala Harris declared victory this morning in the razor-close race for attorney general. With almost all the ballots counted, Harris is leading L.A. District Attorney Steve Cooley by 73,102 votes.
Proving right off the bat that she will be a different kind of A.G., Harris announced a star-studded "transition team," including former L.A.P.D. Chief Bill Bratton, criminal justice reformer Connie Rice, and former Secretaries of State Warren Christopher and George Shultz. Those names suggest Harris has ambitions that go well beyond being California's "top cop."
Harris has promised to never defend Proposition 8, unlike her opponent in the race, Steve Cooley. Cooley conceded to Harris last week.