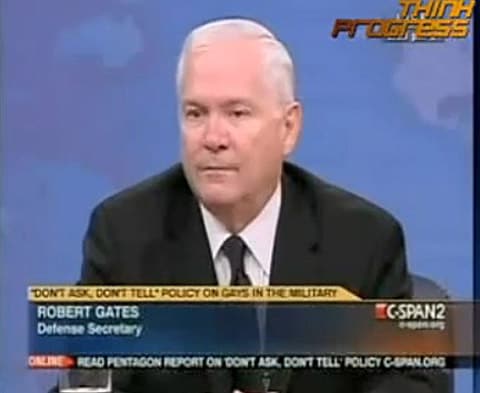 In case you missed our earlier LIVE coverage of the Pentagon press briefing on today's 'DADT' report, here are some highlights from Defense Secretary Robert Gates assessment of the study (via The Wonk Room), in which he practically pleads with Congress to repeal the law before the courts do it for them.
Gates also said this of his personal support for repeal:
"One of the things that is most important to me is personal integrity. And a policy and a law that in effect requires people to lie gives me a problem. We spend a lot of time in the military talking about integrity and honor and values. Telling the truth is a pretty important value in that scale. It's a very important value and so for me…A policy that requires people to lie about themselves somehow seems to me fundamentally flawed."
Watch, AFTER THE JUMP…