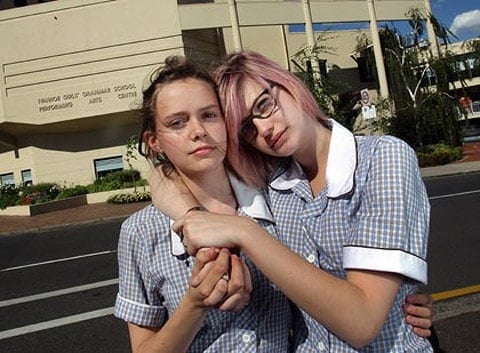 Here's a Constance McMillen deja vu for you.
Hannah Williams and Savannah Supski, a lesbian student couple at Ivanhoe Girls Grammar School outside of Melbourne, Australia, were banned from the school formal, the Sydney Morning Herald reports:
A few weeks earlier a teacher had told the year 11 student she couldn't attend the dance with her 15-year-old girlfriend, Savannah Supski. She was asked to bring a male instead. ''It made me very upset. I thought it was unfair so I didn't go,'' she said.
''I put a lot of effort into trying to fix things. I had meetings with principals; looked through the Equal Opportunity Act; all my friends put posters up around the school and the teachers ripped them down. There was an easy solution; they just needed to let me go with my girlfriend.''
Hannah's father, Peter Williams, lodged a complaint with the Equal Opportunity Commission, alleging the school – Ivanhoe Girls' Grammar in Melbourne – had discriminated against his daughter because of her sexual orientation.
Savannah and Hannah are moving to a new school, where same-sex couples are welcomed at the school formal.
Hannah appeared on an Australian radio show, and gave a great interview about the discrimination.
Listen to her interview, AFTER THE JUMP…