If there's anything to say against the film it's that Boyle is such a busy filmmaker that he is awfully afraid of confronting the terror of immobility that the story is actually supposed to be confronting. In his desperation not to bore us –he doesn't– he sacrifices some of the existential terror that might have made this an all time classic, rather than just a gripping adventure. But few will complain. Especially not James Franco who is on his way to an Oscar nomination with the kind of casual grinning confidence that Aron Ralston bikes and hikes through Utah… at least until he meets that boulder.
Also Opening: Writer director Tyler Perry collects eight of our best black actresses for the movie version of the acclaimed play For Colored Girls Who Have Considered Suicide When the Rainbow is Enuf (shortened for the screen to FOR COLORED GIRLS); Naomi Watts stars as outed CIA operative Valerie Plame in the biographical political drama FAIR GAME; Robert Downey Jr. and Zack Galifianikis take a 'Plains, Trains and Automobiles' style road trip in DUE DATE; the animated film MEGAMIND features the voices of Will Ferrell as a supervillain becoming heroic (think Despicable Me) and Brad Pitt as a retiring superhero; the terrorism satire FOUR LIONS, which won awards attention in the UK last week hits US theaters; and the Algerian Oscar hopeful called OUTSIDE THE LAW arrives in select cities.
BONUS SCENE
Ooh, look. Cher is taking over Soho.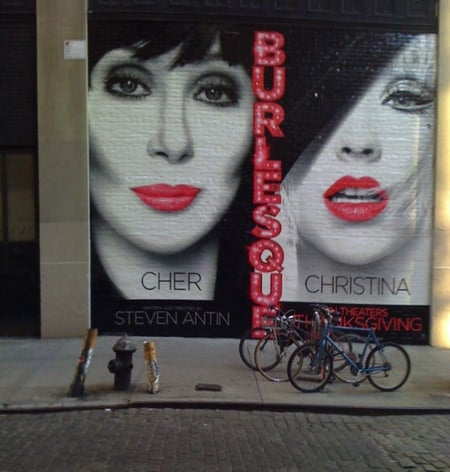 That's actually painted right on the brick at the corner of Crosby and Prince Street right here in New York City. If you rode a bike, wouldn't you park it right there just so Cher could loom over you as you chained it up?
Cher is now 64 years old and probably wouldn't be plastered all over buildings again if she weren't Cher (quick name a celebrity with as many "acts" in their career!) or if BURLESQUE weren't on the way for Thanksgiving.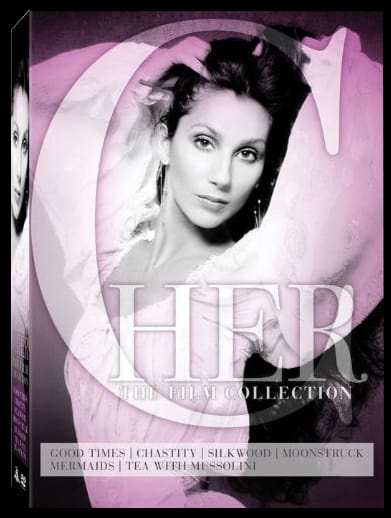 If you want to party like it's 1999 1988, when Cher was on top of the world with a major comeback that brought her the Oscar and new hit singles, you can pick up the dvd set CHER: The Film Collection that's just been released. The gems of the collection are her deservedly Oscar nominated roles in Silkwood (1983) and Moonstruck (1987) "snap out of it!". But there's also the delightful Mermaids (1990) which captured that super brief moment in time when we didn't know Cher was about to leave the movies, Christina Ricci was a brand new face (so adorable) and Winona Ryder was all the rage. The collection also includes Cher's last major film role Tea With Mussollini (1999) and her first two late 60s features (Good Times and Chastity). In the first of those, she played… herself. Hey, it is her best role.
Sadly the collection does not include The Witches of Eastwick or Mask but you can't have everything. It's still 10.5 Hours of Cher if you aren't able to spend 127 with James Franco this weekend.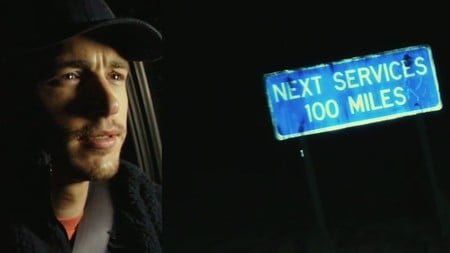 Better take that last pee break before the movie starts.

…watches trailers through fingers (too many spoilers) and waits impatiently for the feature. He blogs daily at the Film Experience. Follow him on Twitter @nathanielr.

YOUR FEATURE PRESENTATION
If Danny Boyle was feeling any pressure about following up his biggest hit, Slumdog Millionaire (2008), it doesn't show. If anything the first minutes of 127 HOURS gleefully remind the audience of the exuberance of that Best Picture winner, as if this were its western cousin, complete with a similarly super-saturated color palette and a split screen homage to globalism. It's not immediately clear then or even by the end of the film, what large celebratory crowds all over the world have to do with the true story of adventurous rock climbing loner Aron Ralston (James Franco). But then, Boyle is less a cerebral filmmaker than a physical one; like Ralston, he's an adrenaline junkie.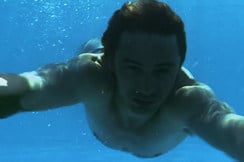 127 Hours moves at such breakneck speed, with such joy of performance (Franco is sensational) and with such love of tricked up camera work, that when it does tumble with Aron down into a crevice, famously pinning his arm under a boulder where it would forever remain, the moment doesn't just play as terror. It plays like a weirdly hilarious affront to the very joy of movement, both human and cinematic.
There have been plentiful reports of people fainting at screenings of 127 Hours but I wouldn't worry. (I'm a wuss and I only had to cover my eyes once.) For a story that sounds grim in the summarizing — man meets boulder is only carrying a bit of water, a video camera and a dull knife –  it's very funny in the telling.
More 127 Hours, new releases and Cher, AFTER THE JUMP…