Admiral Gary Roughead, Chief of Naval Operations, has dropped the hesitancy he had over 'DADT repeal' following his review of the Pentagon's study of the issue, and suggested he is now aboard legislative repeal of the measure.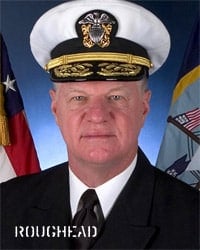 The National Journal reports that Roughead is now urging McCain to act:
"I think the survey, without question, was the most expansive survey of the American military that's ever been undertaken," Roughead said during an interview Saturday aboard his plane. "I think the work that has been done is extraordinary."
Roughead, who was returning to Washington from Wilmington, N.C., where he attended the commissioning of the newest Arleigh Burke-class destroyer, said he is still looking over the report before determining his "thoughts and views," which he will share in the coming days with Gates.
"I've done a review [of the report] and now I'm just trying to put it all in context," he said.
As the Pentagon wraps up the months-long review, Roughead's statements provide insight into how seriously many top officials are taking the report and the weight they are giving the survey of active-duty troops and their families.
The four-star admiral joined the chiefs of the other military services in May in sending individual letters to Senate Armed Services ranking member John McCain, R-Ariz., imploring lawmakers to delay acting on the issue until the Pentagon completed its review. This would enable the services to plan on an orderly implementation of a change in the law, they said.
The Wonk Room reports: "McCain frequently cited Roughead's opposition and that of the the other service chiefs to slow down the legislative repeal process."
Roughead has changed his tune: "I'm eager to see where it goes on the Hill."