Following reports that Senator Carl Levin was considering stripping the Defense Authorization bill of the 'Don't Ask, Don't Tell' repeal amendment, Towleroad has received word from the White House that Obama has reached out to Levin.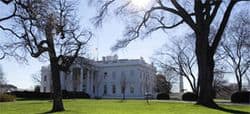 The White House also suggested that outreach to the Senate on DADT is underway.
Said White House spokesman Shin Inouye:
"Today, President Obama called Chairman Levin to reiterate his commitment on keeping the repeal of 'Don't Ask, Don't Tell' in the National Defense Authorization Act, and the need for the Senate to pass this legislation during the lame duck. The President's call follows the outreach over the past week by the White House to dozens of Senators from both sides of the aisle on this issue."
Also, here's some hopeful news from Greg Sargent at the Washington Post's Plum Line:
"…very plugged in staffers who are actively involved in counting votes for Senators who favor repeal tell me it's premature to conclude this — and that it could still get 60 votes in the Senate. These staffers tell me they've received private indications from a handful of moderate GOP Senators that they could vote for cloture on a Defense Authorization Bill with DADT repeal in it — if Dem leaders agree to hold a sustained debate on the bill on the Senate floor. Here's why this is important: It throws the ball back into the court of Senator Harry Reid and the White House. It means the onus is on them, mainly on Reid, to agree to a two-week Senate debate on DADT, including allowing amendments."
Contact Harry Reid HERE. Demand he get this done.
Today, CNN released a new poll showing that 72% of Americans believe gays should be allowed to serve openly in the military.

Previously…
Lawmakers: 'DADT' Repeal May Be Stripped from Defense Bill; Obama to Engage After Release of Pentagon Report [tr]