Pro-equality Massachusetts Supreme Court Associate Justice Roderick Ireland is poised to become the first Black man to lead Massachusetts Supreme Judicial Court after nomination yesterday by Deval Patrick.
Via MassLive: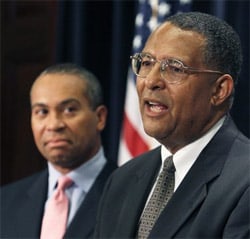 Ireland was with the majority when the state Supreme Judicial Court in a 4-3 landmark decision legalized gay marriage in 2003. 
Of all the court members, Ireland may be the strongest on gay rights. In 2006, he broke with other members on the SJC when it upheld former Gov. W. Mitt Romney's use of a 1913 law to ban same-sex couples from other states from marrying in Massachusetts. 
Under the 1913 law, Romney had said, nonresidents could not marry here if their union would be banned in their home state and they have no intention of moving to Massachusetts. 
As the lone dissenter in the ruling, Ireland said that it was "fundamentally unfair" for the state to resurrect and selectively enforce "a moribund statute" that was dormant for almost a century. Critics said the 1913 law was originally enacted to block interracial marriages. 
Patrick and state legislators in 2008 repealed the old law. 
Ireland is expected to be confirmed in December following a public interview with the Governor's Council.