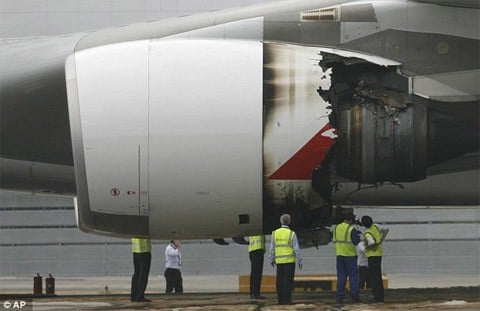 During my recent trip, I had the opportunity to fly on an A380, something I've wanted to do since they went in to service. The planes are so massive and silent from the inside, it's almost hard to believe that you're flying.
That wasn't the case on this particular flight.
Qantas has just grounded its entire fleet of A380s after an engine exploded on a Singapore to Sydney flight, raining debris over Indonesia. It made an emergency landing in Singapore.
The plane was carrying 459 passengers:
The Qantas drama also unfolded over parts of Indonesia, where the massive Mount Merapi volcano has sent lava and ash high into the atmosphere, snarling some airline paths and canceling local flights. In 1982, a British Airways flight suffered engine failure over Indonesia because of volcanic ash, plunging thousands of feet before its engines miraculously restarted. Indonesian aviation officials and a Qantas spokeswoman told MSNBC it's unclear whether volcanic ash might have caused today's engine failure. 
Huge scraps of metal the size of a door rained down on the Indonesian island of Batam near Singapore. "I heard a big explosion at around 9:15 a.m. and saw a commercial passenger plane flying low in the distance with smoke on one of its wings," MSNBC quoted a local resident as saying. "The debris started falling on my house."
Thousands of feet up, passengers on the plane also described a harrowing journey. 
"Everything was going smoothly in the first 15 minutes and then there was a sharp bang. I thought some metal container fell down in the cargo area, but the carriage started to vibrate and there was a bit of a smoke," a Scottish passenger, Lars Sandberg, told the BBC.
Passengers are being offered counseling.
News clip, AFTER THE JUMP…