John Boehner, the presumed House Speaker, held a news conference broadly outlining the party's agenda: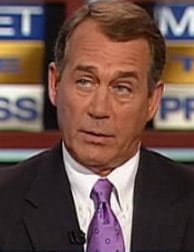 Speaking in broad strokes but offering few details, Boehner presented governing goals that hewed to the tidy campaign themes that drove the Republican romp.
House Republicans will pursue spending cuts and job-creation policies, calling cards of the incoming Republican majority. Gone from the GOP agenda are the morality crusades over issues such as gay marriage or abortion.
"Republicans have made a pledge to America to listen to the people and focus on their priorities, and that's exactly what we're going to do," Boehner said.
Within the party, tensions between mainstream Republicans and the Tea Party are coming into view:
"Candidates matter," said Sen. Lindsey Graham (R-S.C.). "It was a good night for Republicans but it could have been a better one. We left some on the table."
Referring to the debate within the right about whether the party was better off losing the Delaware seat than winning with a moderate Republican like Rep. Mike Castle, who lost the GOP primary to Christine O'Donnell, Graham was even more blunt.
"If you think what happened in Delaware is 'a win' for the Republican Party then we don't have a snowball's chance to win the White House," he said. "If you think Delaware was a wake-up call for Republicans than we have shot at doing well for a long time."
Former Senate Majority Leader Trent Lott put it plainly: "We did not nominate our strongest candidates."
Had Republicans run Castle in Delaware and establishment favorites Sue Lowden in Nevada and Jane Norton in Colorado, Lott said, Tuesday would have turned out different.
"With those three we would have won and been sitting at 50 [senators]," he observed.