"A Statement to the Viewers of Countdown"
Keith Olbermann has released a letter to viewers of Countdown, thanking his supporters, and explaining the events which led to his very brief suspension.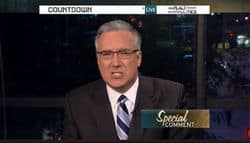 He writes, in part:
"You should also know that I did not attempt to keep any of these political contributions secret; I knew they would be known to you and the rest of the public. I did not make them through a relative, friend, corporation, PAC, or any other intermediary, and I did not blame them on some kind of convenient 'mistake' by their recipients. When a website contacted NBC about one of the donations, I immediately volunteered that there were in fact three of them; and contrary to much of the subsequent reporting, I immediately volunteered to explain all this, on-air and off, in the fashion MSNBC desired."
Read Olbermann's full letter, AFTER THE JUMP…
Olbermann is returning to his 8pm slot on MSNBC Tuesday night.