White House communications director Dan Pfeiffer released a statement Monday night presumably reacting to concerns over a report in the Wall Street Journal that Senate leaders were cutting a deal that would remove the 'Don't Ask, Don't Tell' repeal amendment from the Defense Dept. Authorization Bill.
Pfeiffer (via Metro Weekly's Chris Geidner):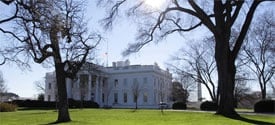 "The White House opposes any effort to strip 'Don't Ask, Don't Tell' from the National Defense Authorization Act."
"On Monday, Fred Sainz, HRC's communications vice president, called the reports 'interesting background noise,' but added, 'At this point, this is nothing more than a rumor that has always been a possibility.'…(adding) 'As you would expect, Republicans like McCain are going to be shopping around any option that strips 'Don't Ask, Don't Tell' repeal from the underlying bill.'"