Last week I posted about Jacob Harshbarger of San Diego, who was allegedly beaten unconscious in his alley behind his home on Halloween night by at least five people who used anti-gay slurs.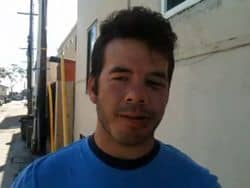 Two of those suspects have been caught:
"The suspects, Michael Brandon and Christopher Blount, both 23, have been charged with felony battery, and battery likely to cause great bodily harm (no weapon). Det. Gary Hassen of the San Diego Police Department said the incident is still being investigated and the charges are 'strictly a battery on a person; it is not listed as a hate crime.'"
Another potential anti-gay hate crime was reported as well:
"The incident, which was first posted as a community alert on the san diego:dialed in blog, was also initially labeled a hate crime by the victims. One of the victims, Martin Niwinski, said he was sitting in a car when he noticed his friend Daniel Crawford being attacked. 'Neither of us are gay but this was a hate crime with him being called a 'fag' and a 'faggot' multiple times before being rushed in the parking lot,' Niwinski said. At the time of the attack, Crawford was dressed in a Halloween costume as Freddie Mercury… Initially, some in the community believed this incident may have been related to the Harshbarger case but the San Diego Police Department says they are isolated incidents."