X Factor winner Shayne Ward is promoting an album and making a play for gay fans with a wet appearance on UK's Gay Times magazine.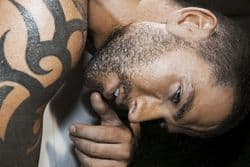 He says he rather enjoys the male attention:
"I do get people who say 'Yeah Shayne Ward's gay' but I don't take offence. I've never had a problem with it. I have a lot of gay friends. I think it's great. People look at me and say it because I look after myself. Even the missus as I was ironing my shirt this morning. She goes 'You're so gay!' and I said 'Wouldn't you rather I was like this than be a slob?!'"
Ward's new track "Gotta Be Somebody" is a rather lackluster effort (imho), but to get folks to watch the video he has apparently decided to have his clothes off most of the time.
Watch, AFTER THE JUMP…