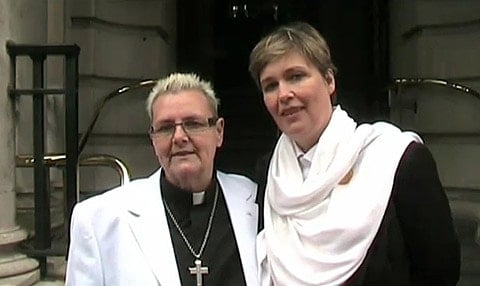 Yesterday, a lesbian couple challenged the UK law by applying for a marriage license in England:
Rev Sharon Ferguson and her partner Franka Strietzel were turned away on the grounds that UK law stipulates that marriage partners have to be male and female.
The couple now plan to challenge this restriction in the courts, arguing that the ban on same-sex marriage violates Articles 14 (protection against discrimination), 12 (the right to marry) and 8 (the right to respect for family life) of the Human Rights Act.
Rev. Ferguson is an ordained minister of religion and chief executive of the Lesbian and Gay Christian Movement.  Franka Strietzel is a corporate trainer.
Today's application for a civil by the couple was the first of four that form part of the new 'Equal Love' campaign coordinated by human rights campaigner Peter Tatchell and sponsored by the lesbian, gay, bisexual and transgender human rights organisation OutRage!
There will also be four application by opposite-sex couple for a civil partnership licence.
The Equal Love campaign seeks to end the prohibition on same-sex marriages and opposite-sex civil partnerships.
Watch an interview with the couple and a film of their attempt, AFTER THE JUMP…