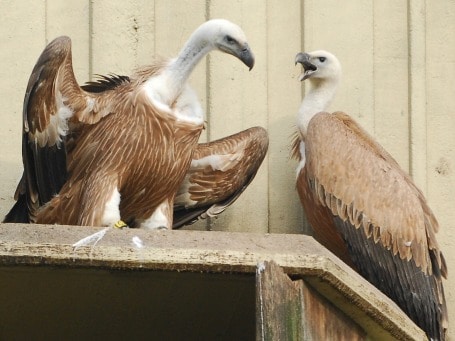 This sounds like a harebrained ex-gay therapy scheme to me – for animals.
German zookeepers are forcing two male vultures who prefer nesting together to mate with females, sparking outrage from gay rights activists who accuse the zoo of discriminating against birds of a different feather. The trouble began back in March, when Guido and Detlef, two Griffon vultures, decided to move in together.

The lovebirds began crafting a two-man nest out of stray twigs in a communal birdcage at their zoo in the town of Munster, in northwest Germany. Both birds are predatory males, but seemed to enjoy one another's company more than that of any female. They spent their days grooming one another with their beaks and fortifying their nest — though other vultures occasionally stole their building materials, as if to spite them. "They always sat so closely together. They defended their nest from the other vultures," the zoo's curator, Dirk Wewers, told The Daily Telegraph of Australia.
Zookeepers separated the two and now Detlef is being forced to unsuccessfully mate with a female vulture. According to  Wewers, Detlef has not shown any interest in the female vulture.
Protesters and bloggers are speaking out on the gay vultures' rights. Said one blogger: "This is like in the dark middle ages, forcibly making a creature sexually re-orient itself by tearing its partner from its side."