John Travolta's attorneys want Gawker to remove a post (titled "The Secret Sex Life of John Travolta") on their site that recounts, via a book by author Robert Randolph, the actor regularly engaged in sex with men at public saunas. Travolta's legal team sent a letter with the request to the website on the same day as the birth of his son. They also called allegations that he is gay "false and outrageous."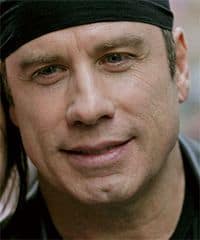 The Seattle Post-Intelligencer reports:
The lawyer calls the claims "blatant defamatory lies" from a "patently unreliable source," pointing out the author previously suffered permanent brain damage, which he has acknowledged on his own website.

Singer also notes the claims "go back fifteen years, yet inexplicably, he (Randolph) has waited until now to peddle these phony tall tales."

Travolta's lawyer is demanding the immediate and permanent removal of the Randolph post and "the publication of an unequivocal and prominent retraction of the false and defamatory statements."
The full five-page letter from Travolt'as legal team is up on the Gossip Cop website.