There will be zero openly gay Republicans serving in state legislatures this January, according to the Victory Fund: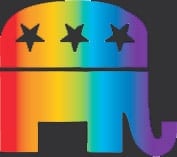 Among the nearly 4,000 Republican state lawmakers expected to serve across the U.S. come this January, none will be openly lesbian, gay, bisexual or transgender, according to the Gay & Lesbian Victory Fund.  The development marks the first time in years that an openly LGBT voice will be absent from Republican politics at the state level.
"Unfortunately our endorsed GOP candidates for 2010 lost elections for state legislative positions in Nevada and Michigan, and the three sitting openly gay Republican state senators – in California, Massachusetts and Minnesota – are leaving office at the end of this year," said James Dozier, deputy political director at the Victory Fund.