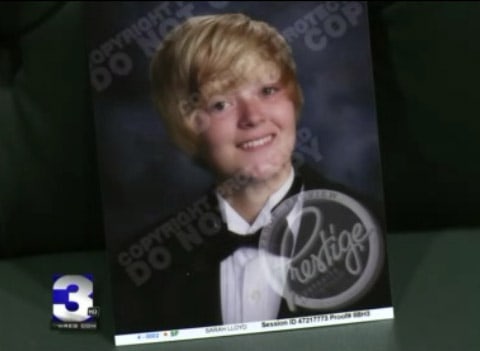 You may recall the story of Mississippi High School student Ceara Sturgis, a Mississippi lesbian student now involved in an ACLU lawsuit, who was forbidden from wearing her tuxedo in her school yearbook photo and then left out of the yearbook completely!
Well, a similar situation just went down in Marion, Arkansas, with another lesbian student Sarah Lloyd. The school resisted allowing Lloyd's yearbook photo, in which she wore a tuxedo (above) because, you see, there are rules!
On Tuesday night the school board voted to allow her to wear a tuxedo in the photo.
Said Lloyd: "I feel if I was wearing the drape I'd be someone that I wasn't and I'm really not down for all that. I wanted to show the school I'm not out to please them and I am who I am. They just need to accept it."
Watch Lloyd's story and interview, AFTER THE JUMP…