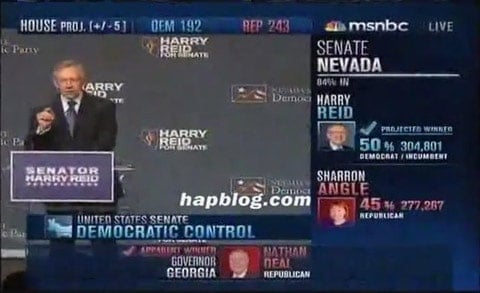 Senator Harry Reid, who defeated Tea Party challenger Sharron Angle last night, said it was "one of the toughest" races he's had to fight. Reid called it "the start of the next round."
He told the GOP this morning, in a statement, that it was time to stop saying "no":
"The time for politics is now over. And now that Republicans have more members in both houses of Congress, they must take their responsibility to present bipartisan solutions more seriously. Simply saying 'no' will do nothing to create more jobs, support our middle-class and strengthen our economy." 
Watch Reid's victory speech from last night, AFTER THE JUMP…
Read my full wrap-up of the evening and key races, HERE.