Could marriage equality pass in New York next year? The votes aren't all there, but it's moving in the right direction, advocates say.
NY1 reports: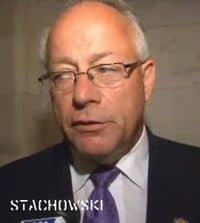 It comes down to numbers. Come January, there will be 14 new faces in the State Senate compared to a year ago, and advocates say they now have two more "yes" votes than before. That's because even though three pro-gay marriage Democrats were ousted by Republicans, five "no" votes will flip to "yes" votes, including Queens Republican Frank Padavan and Buffalo Democrat William Stachowski. Gay rights advocates campaigned against both.
"That I believe sends a very strong message to everybody in Albany, where they have to be thinking about whether they want the strength of the LGBT community turning to them in a negative way," Levi said.
Then there's Queens Democrat George Onorato, a "no" vote who's retiring. Democrat Michael Gianaris, a "yes" vote, won his seat but acknowledges the yays may still come up short.
"I think the net is a positive. We're moving in the right direction. But it hasn't been enough to make up the eight votes that we needed yet," Gianaris said.
Advocates believe others can be swayed, and incoming Majority Leader Dean Skelos has indicated he will allow the issue to the floor again for a vote.