What does GOProud's so-called "right wing Judy Garland" have to say about Wikileaks soldier Bradley Manning?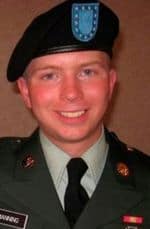 What constitutes being "openly" gay now? Bringing a spice rack to basic training? Attending morning drills decked out as a Cher impersonator? Following Anderson Cooper on Twitter?
Also, U.S. military, have you seen a picture of Bradley Manning? The photo I've seen is only from the waist up, but you get the feeling that he's wearing butt-less chaps underneath. He looks like a guy in a soldier costume at the Greenwich Village Halloween parade.
With any luck, Bradley's court-martial will be gayer than a Liza Minelli wedding. It could be the first court-martial in U.S. history to feature ice sculptures and a "Wizard of Oz"-themed gazebo. "Are you going to Bradley's court-martial? I hear Patti LaBelle is going to sing!"
Maybe there's a reason gays have traditionally been kept out of the intelligence services, apart from the fact that closeted gay men are easy to blackmail. Gays have always been suspicious of that rationale and perhaps they're right.
And repealing 'Don't Ask, Don't Tell?'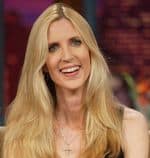 Look at the disaster one gay created under our punishing "don't ask, don't tell" policy. What else awaits America with the overturning of a policy that was probably put there for a reason (apart from being the only thing Bill Clinton ever did that I agreed with)?
Liberals don't care. Their approach is to rip out society's foundations without asking if they serve any purpose.
Why do we have immigration laws? What's with these borders? Why do we have the institution of marriage, anyway? What do we need standardized tests for? Hey, I like Keith Richards — why not make heroin legal? Let's take a sledgehammer to all these load-bearing walls and just see what happens!
For liberals, gays in the military is a win-win proposition. Either gays in the military works, or it wrecks the military, both of which outcomes they enthusiastically support.