Daniel Aleman said he was "drunk and out of control" when he and a friend committed the anti-gay assault on 50-year-old Jack Price in October 2009 that left Price in a coma with a broken jaw, broken ribs, a lacerated spleen and two collapsed lungs. Video of the attack is here.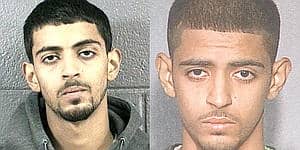 Aleman (left) was sentenced to eight years in prison yesterday, the NYDN reports:
"I'm very sorry for what I did," Aleman said. "I was drunk and I was under the influence. I made a very big mistake."
Price listened to Aleman from a courtroom seat a few feet away and afterward expressed forgiveness for his attacker.
"I think he just got caught up in the stupidity," Price said, leaning on the cane he's used to get around since the October 2009 robbery and attack.
"I never bothered anybody," he added. "It's pretty much just a real big stupid mistake."
Daniel Rodriguez (right), the co-assailant who, like Aleman, entered a guilty plea earlier this month, awaits sentencing.