Deputy Attorney General Monica Marquez made history in Colorado on Friday, Fox News Latino reports: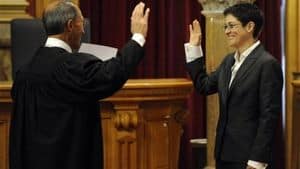 …she was quick to tell her colleagues that her allegiance is to the law, not any special interest group when she was sworn in Friday.
"On the bench, of course, my allegiance is to the law, not to any particular constituency," she said after she was sworn in by her father, retired Judge Jose D.L. Marquez, who was the first Latino appointed to the Colorado Court of Appeals.
Marquez, 41, is a Grand Junction native who attended Stanford and Yale universities.
Gov. Bill Ritter told the justices that he interviewed Marquez and determined she has a "deep respect for the rule of law."
He said he was reassured she would not show preference. "It's important not to do that for any interest group," he told the court.
At this time, there are no major gay rights measures pending in the Colorado courts, but you can be sure that when there are the conservatives will immediately raise a stink about Justice Marquez.