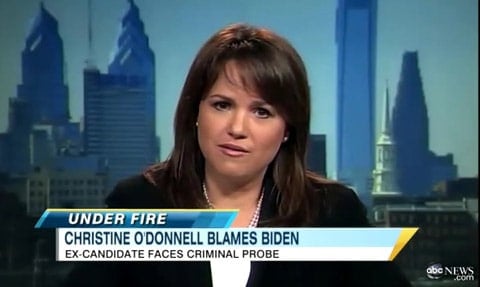 UPDATED
Christine O'Donnell is the subject of a federal criminal probe into illegal use of campaign funds during her failed U.S. Senate run, the News Journal reports:
"The case, which has been assigned to two federal prosecutors and two FBI agents in Delaware, has not been sent to a grand jury…Citizens for Responsibility and Ethics in Washington (CREW), the national ethics group, previously called O'Donnell's use of more than $7 million in donated funds 'Magic Money,' and repeated a claim that she had misused campaign resources for personal expenses, including household rent. 'Delaware Republican Senate candidate Christine O'Donnell spent the 2010 campaign responding to nearly endless questions about her integrity, including allegations she had treated her campaign account like her personal piggy bank,' CREW said in summarizing its questions about O'Donnell's record."
O'Donnell appeared on Good Morning America today, where she blamed Vice President Joe Biden for the probe, and also the Today show, where she placed the blame for the probe on establishment Republicans who are after her.
Watch MSNBC's report on the probe, and O'Donnell's interviews placing blame, AFTER THE JUMP…