Whatever you read today, make sure it includes this great piece about Toronto Maple Leafs General Manager Brian Burke, his son Brendan who died earlier this year in a car accident, and Brendan's brother Patrick, all of whom behaved heroically as Brendan came out and later lost his life, far too early.
Writes Mary Rogan in GQ: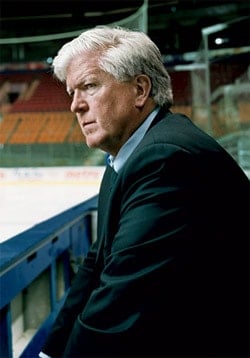 In the past thirty years, Burke has blistered through the ranks of NHL management, including a stint as discipline czar for commissioner Gary Bettman. "When he was working for me," Bettman recalls, "there was a picture of him in his office from when he played for the Maine Mariners, with blood all over his face and uniform. I knew this was a good, smart, tough guy with no b.s. about him."
But now the combative G.M. had taken the biggest hit of his life. Lying on the side of the road was his 21-year-old son, who had stunned the hockey world three months earlier when he'd come out as the first openly gay man closely connected to the NHL. Listening to the sheriff's voice down the line, Burke could see Brendan in the snow that was still falling, surrounded by strangers who didn't know a thing about him. He must be so cold, Burke thought, and he could see the furrow in his brow that Brendan always got when he was worried. He could see the paramedics give up and step away, and already ticking in the background were those ten seconds of knee-buckling fear.
****
As he tells this terrible story, Burke is sitting in the expansive backyard of his Toronto home, which overlooks one of the city's most beautiful ravines, maneuvering his cell phone on the patio table to show which way Brendan's car was facing when it crossed the center line. His voice is a low moan as he chokes out the words and lurches his way through the details. At his feet, on the weathered deck, are wet blotches from the tears he can't slap away fast enough. "Brendan died alone in the snow," he sobs. "And it haunts me that the last ten seconds of his life were filled with terror."
As heartbreaking as that last paragraph is, it's really an empowering, beautiful piece that shows a father's dedication to his gay son, and the changes they made together.
Out on the Ice [GQ]