Just over one year ago, Mecklenburg County (in North Carolina) Commissioner Bill James caused some conflict when he referred to a colleague's dead son who had died of AIDS as "a homo." He was asked to apologize for the remarks, but has since stubbornly refused to do so.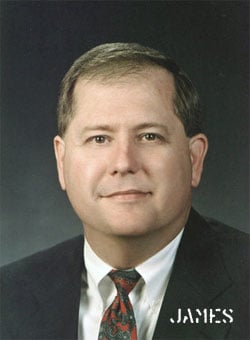 Well, James' hateful anti-gay views have resurfaced, this time in response to this month's historitc repeal of "don't ask, don't tell." QNotes reports on an email exchange between James and other city officials:
"Homosexuals are sexual predators," James wrote in one email from a string of several between county board members, Roberts and County Manager Harry Jones, and provided by James to qnotes. "Allowing homosexuals to serve in the US military with the endorsement of the Mecklenburg County Commission ig  nores a host of serious problems related to maintaining US military readiness and effectiveness not the least of which is the current Democrat plan to allow homosexuals (male and female) to share showers with those they are attracted to."

James added, "The US Government would not allow Hetero men and women to share showers and other personal facilities yet the leading homosexual in Congress (Barney Frank) thinks it is OK for homosexuals to do so allowing enlisted men and women to fall prey to higher ranking or more powerful homosexuals who ogle them (or worse)."
Mecklenburg Lesbian, Gay, Bi-Sexual and Transgender Political Action Committee (MeckPAC) responds: "These remarks are shocking, though not surprising considering his past rhetoric. Near the same time last year, Commissioner James called fellow Commissioner Vilma Leake's deceased son a 'homo.' Commissioner James has also said that black Americans live in a 'moral sewer.' Such statements continue to be well over the line of decency and civility, and should be called out as the ignorant bigotry they are."