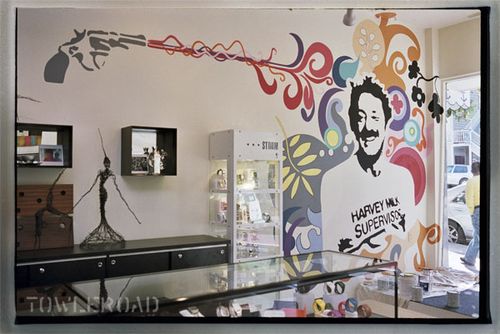 The Human Rights Campaign is moving into Harvey Milk's old camera shop at 575 Castro in San Francisco, the San Francisco Examiner reports:
"In addition to merchandise with HRC's signature 'equal' logo, the store will offer items emblazoned with the words and images of Harvey Milk. A portion of the proceeds from the sale of these items will be donated to local organizations that continue to carry on the legacy of Harvey Milk, such as the Harvey Milk Civil Rights Academy and the GLBT Historical Society, according to the organization."
Said HRC President Joe Solmonese: "It is Harvey Milk's vision of hope that continues to inspire the work that we do at the Human Rights Campaign. We are the beneficiaries of his groundbreaking activism and are honored to be a part of the future that he envisioned."
Above, 575 Castro in its most recent retail incarnation, as gift shop Given.