There's plenty of speculation about when, how, and if 'DADT' repeal will come up for a vote before Christmas, and t's not very positive. Infuriating, actually.
Here's the latest: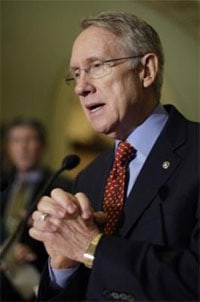 Following a fuss over his latest disregard of the measure, Majority Leader Harry Reid reaffirmed his commitment to bring 'DADT' repeal up for a vote:
Reid pledged to repeal "Don't Ask, Don't Tell" by year's end on the Senate floor as he described a litany of legislative items he wants the chamber to take on during lame duck, including passage of the DREAM Act, renewing tax cuts for middle class families and ratification of the START Treaty.
"We're also going to repeal the discriminatory 'Don't Ask, Don't Tell' law," Reid said. "We're going to match our policy with our principles and finally say … everyone who steps up to serve our country can be welcome."
The Huffington Post adds that many lawmakers are "supportive" of extending the lame duck session but won't commit:
A Senate aide told The Huffington Post on Monday morning that Majority Leader Harry Reid has been "supportive" of the idea that lawmakers be kept in D.C. to pass a defense authorization bill that has, attached to it, language that would allow gays to serve openly in the armed services. That same procedural strategy is being pushed by Sen. Joseph Lieberman (I-Conn.), one of the chief advocates for overturning DADT.
"Sen. Lieberman believes that there are at least 60 votes to repeal 'Don't Ask, Don't Tell' this year, provided that leadership allows time for sufficient debate and amendments," Lieberman spokeswoman Erika Masonhall said. "Wanting to go home is not an acceptable excuse for failing to pass a bill that provides essential support for our troops and veterans and failing to take action that the president, the Secretary of Defense and the chairman of the Joint Chiefs of Staff have called for."
Hours later, Sen. Kirsten Gillibrand (D-N.Y.) another leading advocate for overturning DADT, offered her support for Lieberman's position.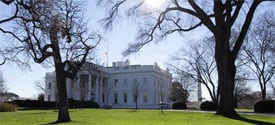 The White House is equally as wishy-washy, only saying that it's confident that Congress will "address" the issue this year.
"The White House remains fully committed to passage of the NDAA, including the repeal of Don't Ask, Don't Tell, during the lame duck," a White House official who asked not to be named said Monday afternoon. "This is a priority for the President, and are we confident that the Congress will be able to address this issue this year." 
And Defense Secretary Robert Gates is skeptical that it will get done this year:
In comments aboard the USS Abraham Lincoln in the Arabian Sea, Mr. Gates said he was unsure that there would be a repeal of the 17-year-old "don't ask, don't tell" policy that requires gay men and women in the military to keep their sexual orientation secret or face discharge.
"I'd have to say I'm not particularly optimistic that they're going to get this done," he told sailors aboard the Lincoln, although he added, "I would hope that they would." Mr. Gates's remarks were provided by a pool report from a small group of reporters accompanying him on the ship.