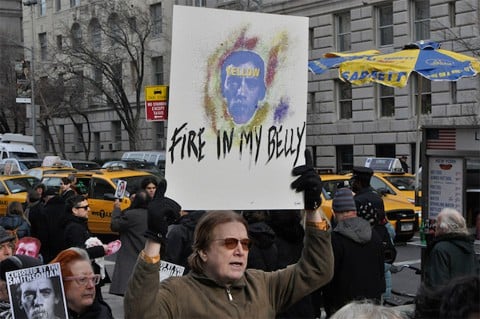 Several hundred people marched in protest of the National Portrait Gallery in D.C.'s decision to censor a video work by the late artist David Wojnarowicz earlier this month, Hyperallergic reports.
They have a great selection of photos, a couple of which you see here.
Writes the blog: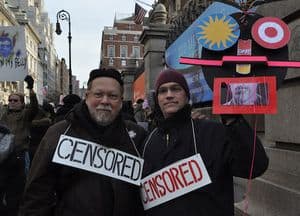 "Organized by Art+, a New York-based group organizing direct action against the censorship of Wojnarowicz's video, the march began in the middle of Museum Mile and marched uptown along Fifth Avenue until the Cooper-Hewitt National Design Museum, which is a Manhattan-based Smithsonian institution. Protesters chanted everything from 'Put it back!' and 'Ants in my pants, fire in my belly" to 'It's Christmas, what's wrong with you?' and the more satirical 'Free the ants!' Art+ is demanding the video be restored to the exhibition, which was ordered removed in late November by the Smithsonian Secretary G. Wayne Glough after manufactured outrage by right-wing media outlets and pressure from right-wing US congressman."
Wojnarowicz's video work, "A Fire in My Belly", was a tribute to a lover who died of AIDS, and featured, in part, a crucifix crawling with ants meant to convey the suffering of Jesus on the cross.
Linda St. Thomas, a spokesperson for the Smithsonian, expressed regret that the video's removal had overshadowed the exhibit itself. "One hundred and four pieces remain," she said in a telephone interview. "We're sorry that the video had to become the focal point."