A federal district (activist) judge in Virginia, appointed by George W. Bush, has declared a key provision of Obama's recently passed health care reform unconstitutional: "The insurance mandate is central to the law's mission of covering more than 30 million uninsured because insurers argue that only by requiring healthy people to have policies can they afford to treat those with expensive chronic conditions."
The NYT adds: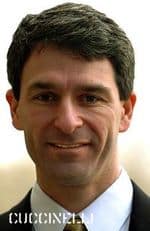 The opinion by Judge Hudson, who has a long history in Republican politics in northern Virginia, continued a partisan pattern in the health care cases. Thus far, judges appointed by Republican presidents have ruled consistently against the Obama administration while Democratic appointees have found for it.
That has reinforced the notion — fueled by the White House — that the lawsuits are as much a political assault as a constitutional one. The Richmond case was filed by Virginia's attorney general, Kenneth T. Cuccinelli II, a Republican, and all but one of the 20 attorneys general and governors who filed a similar case in Pensacola, Fla., are Republicans. Other lawsuits have been filed by conservative law firms and interest groups.
The two cases previously decided by district courts are already before the midlevel courts of appeal, with the Detroit case in the Sixth Circuit in Cincinnati and the Lynchburg case in the Fourth Circuit in Richmond.
The Justice Department, which is defending the statute, is also considering whether to appeal Judge Hudson's ruling to the Fourth Circuit, which hears cases from Virginia and four other states. That would leave that court to consider opposite rulings handed down over two weeks in courthouses situated only 116 miles apart.
The case is eventually expected to head to the Supreme Court.
You may recall that back in March, Cuccinelli wrote a letter to the state's public colleges encouraging them to abolish policies that prohibit discrimination of gays and lesbians.