Another lawsuit against "Don't Ask, Don't Tell" has been filed in federal court, the AP reports: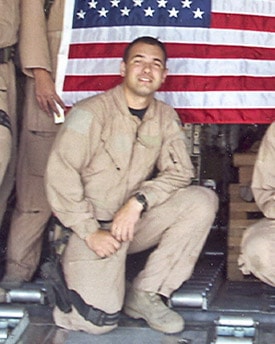 The lawsuit filed in federal district court in San Francisco also seeks to have the ban on openly gay troops declared unconstitutional and therefore unenforceable for any service members.
"I don't feel like I'm going up against the military, I really don't. I just feel like this is a necessary step for doing away with this policy," said former Air Force Staff Sergeant Anthony Loverde. "I believe the military, the majority of troops I've served with and those who have been studied to death are with us."
The 31-year-old Loverde (pictured) is working in Iraq for a private military contractor that's providing the Army with technical support. The lawsuit was also filed on behalf of former Air Force Major Michael Almy, 40, and former Navy Petty Officer Second Class Jason Knight, 28.
The Senate better get their asses in gear and repeal this thing, because it's on the way out one way or another.
Back in May when I was posting SLDN's 'Stories from the Frontline' I published Loverde's. You can read it here. Here, also, is Mike Almy's, and Jason Knight's.